Australia: The new continent: Canberra, the capital!
In this topic, we will study some specific structures in English which have something in common, the word order of the sentence, and which are known as inversions. There are different kinds of sentences with which we may use this structure for different reasons.
We will also have a look at multi-word verbs.

Reading activity
After four days in Melbourne, Paco decides to travel to the capital city of Australia, Canberra, which is 650 km away from Melbourne. He decides to travel by train, and on his way, he talks to a business man who is going there, too. The man tells Paco about this Australian city.
Canberra, the capital city of Australia1
Man: Canberra is the eighth largest city in Australia. The site of Canberra was selected for the location of the nation's capital in 1908 as a compromise between rivals Sydney and Melbourne. Following an international contest for the city's design, a design by the Chicago architects Walter Burley Griffin and Marion Mahony Griffin was selected. No sooner was it selected than its construction commenced in 1913.
Paco: I've read it is known as the "bush capital". Why?
Man: Well, I think it is because the city's design was heavily influenced by the garden city movement and incorporates significant areas of natural vegetation. Although the growth and development of Canberra were hindered by the World Wars and the Great Depression, it emerged as a thriving city after World War II.
Paco: Why has it become so important?
Man: Not only is it the seat of the government of Australia, but it is also the location of many social and cultural institutions of national significance, such as the Australian War Memorial, National Gallery of Australia, National Museum of Australia and the National Library of Australia.
Paco: That being so, there must be many things to see there. By the way, why is it called Canberra?
Man: Well, there are several theories about that. The word "Canberra" is said to derive from the word Kanbarra meaning "meeting place" in the old Ngunnawal language of the local Ngabri people. Alternatively the name was reported to mean "woman's breasts", by journalist John Gale in the 1860s, referring to the mountains of Mount Ainslie and Black Mountain.
Paco: Where would you go first?
Man: Were I you, I would visit the National Library. You will get astonished at the amount of books and manuscripts you can find there.
Paco: That's an excellent idea! Seldom have I seen big libraries. I almost always go to the one at the university. All the books I need are there.
Man: Believe me! It is worth it! Only when you see it will you realize what a great library it is! However, not only should you visit it, you should also spend some time at the Parliament House, which was opened in 1927. It is also fantastic, different from other big buildings.
Paco: I will go there first. Is there a library like this in Melbourne?
Man: Of course! It is even bigger.
Paco: Had I known it I would have visited it. I've spent five days in Melbourne. After Canberra I'll visit Tasmania. Then I'll go to New Zealand.
Man: Great! But be careful! Under no circumstances should you mention you prefer other libraries to the one in Canberra. People are fond of their library.
Paco: Ok! Thank you very much! You're very kind.
Paco opened his guide book and kept on reading:
The district's change from a New South Wales rural area to the national capital started during debates over Federation in the late 19th century. Following a long dispute over whether Sydney or Melbourne should be the national capital, a compromise was reached: the new capital would be built in New South Wales, so long as it was no closer than 160 km to Sydney, with Melbourne to be the temporary capital while the new capital was built.
1 Adapted from Wikipedia.org
Listen to and read the passage carefully and answer the following questions:
1. According to the text, why was Canberra built?
2. Why does the man advise Paco to visit the National Library of Australia?
3. Why is Canberra known as "bush capital"?

Further knowledge
If you want to know more about the capital city of Australia, Canberra, visit the Wikipedia. And a summary of the information provided can be seen in the video below. Pay attention to the accent! Mike doesn't have the same accent, does he? Remember to ask him any word, phrase or sentence you áre n't sure how to pronounce and come back to ask him for help whenever you need him!

Self-Assessment activity
According to the text, are the following statements true or false?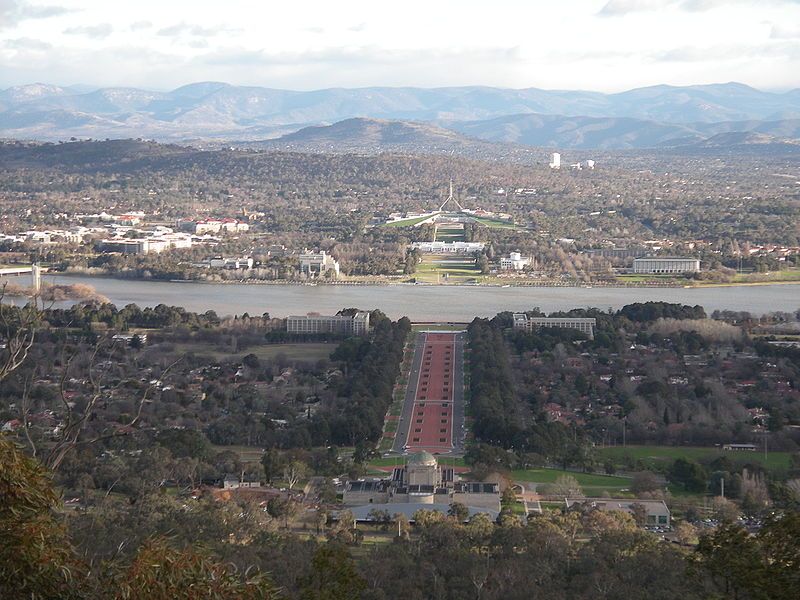 By PDH. GNU Free Documentation License
1. Canberra became a wealthy city after the Great Depression.
Verdadero Falso
2. Paco will first go to the Parliament House.
Verdadero Falso
3. Melbourne has been the capital city of Australia once.
Verdadero Falso
Now we have learnt a bit about the place Paco is travelling to, let's study some of the structures which appear in the text.